We have a question here about how common assaults/crime happen to people hiking the Appalachian Trail which I have answered with basically all of the statistics I could find.
However it doesn't seem to me that one can judge the safety of something by the numbers when the risk is going to vary considerably by the person and by the actions they take.
See this XKCD that illustrates quite well what I am talking about.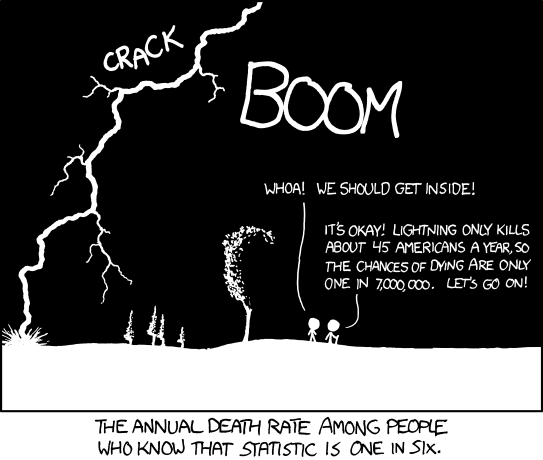 While the overall deaths are low being above treeline or in open fields greatly increases your risk (Roy Sullivan was struck by lightning 7 times).
The other thing is that for example just because there were 3 rappel failures out of 43631 climbers in a study(Source) that doesn't seem to mean that rappelling is safe (people die rappelling) but rather that most climbers take the appropriate precautions and do it safely.
Would the statistics of how frequent crime happens(if comprehensive and accurate) be an indicator of how safe a trail is?